PVC Umbrella Case
Product Details
PVC material umbrella case occupy less car inner space but has high capacity, and it is collapsible, which is convenient for drivers. The PVC material, resistant to heat and fire, is a kind of general-purpose plastic and is widely used in many industries. PVC also have many other features, which make itself become the materials of steering wheel covers. PVC umbrella case is wear resistant, and also provides warmth and flexibility.
Quick Details
Type: Umbrellas
Color: black
Delivery Detail: 1Month
Features
- It is folding type case to input umbrella that got wet in the rain conveniently.
- It is used conveniently in an emergency anytime as portable & compact type.
- It has water proof function that water inside is not leaked from case after putting wet
umbrella into case.

Specification
material: High quality imported PVC( we make it according to your requirements )
color:black etc(different color for choosing)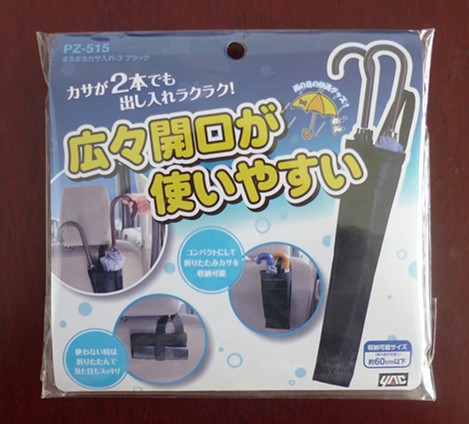 Feedback